Town of Westlake New Home Developments
Town of Westlake New Home Developments
Are you looking for a new build community in Westlake, TX? You're in luck! New home developments are popping up all around the area! From rolling hills and hundreds of mature trees to a quaint European village, these three housing developments offer the best of luxury living in the Town of Westlake:
Quail Hollow
Photo Courtesy of Quail Hollow Website.
Quail Hollow, a new housing development in Westlake, is the perfect definition of luxury estate living. The community setting is absolutely stunning, featuring rolling hills, hundreds of oak and cypress trees, scenic lakes and more! Just a short jaunt away is the Vaquero Golf Club offering Quail Hollow residents with access to golf memberships and Clubhouse amenities (fitness center, tennis, dining, kid's activities and social events). The Quail Hollow community spans 188 acres and was carefully broken into 92 home sites to ensure residents won't feel crowded. Homes in the Quail Hollow community are built on wooded one-to two-acre home sites and because they are custom, range in both price and size. Preferred builders of the community include:
Cunningham Classic Homes
Michael Lorant Estate Homes
Sharif & Munir Custom Homes
Larry Stewart Custom Homes
Simmons Estate Homes.
The community is located near the renowned Westlake Academy, an open-enrollment charter school which offers the International Baccalaureate curriculum, and Liberty Christian, a highly-recognized private school. However, if you wish for your children to attend a public school, the majority of Quail Hollow's home sites are zoned for Carrol ISD and a handful for Keller ISD.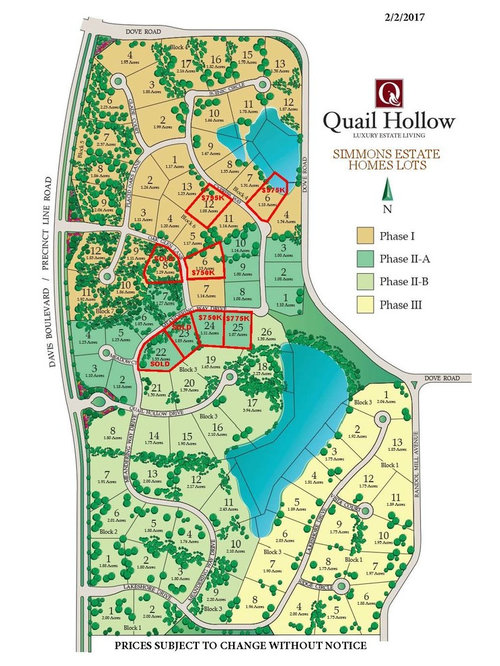 Map courtesy of the Quail Hollow Website.
Entrada
Rendering Courtesy of Centurion American
Located on the southeast corner of SH 114 and Davis Boulevard in Westlake, the Entrada mixed-use village can be summed up in one word: European. The European-style community plans to feature retail shops, restaurants, medical offices, entertainment options, residential homes, a signature bridge, similar to the Rialto Bridge in Venice, Italy, and a significant water feature. In total, the community will have 300 residential units: 200 single-family villas, 70 to 80 townhomes and 40 to 50 condominiums. These homes, just like the community, are European in style and custom built by Vesta Custom Homes. Visit the community website for more information on Entrada, Westlake's European community.
Click here to watch video overview of the community: https://www.youtube.com/watch?v=bmYmQ64o_Vs
Granada
Luxury homes, beautiful land and a great school district, are just three words that describe Granada, a new-build community in Westlake. Spanning more than 84 acres of prime Westlake land, the Granada community will offer 84 single-family luxury homes starting at $1.2 million. After buying a lot, residents have their choice of prestigious builders:
Photo courtesy of Granada Website.
Calais Custom Homes:
Photo courtesy of Granada Website.
Larry Stewart Custom Homes:
Photo courtesy of Granada Website.
Simmons Estate Homes:
Photo courtesy of Granada Website.
The community town itself is conveniently located just 20 minutes from the Dallas-Fort Worth Airport and near some of the area's top schools: Carroll ISD, of which 98 percent of seniors go on to attend college or university after graduation, and Westlake Academy, a local private school offering all three International Baccalaureate programs.
Map courtesy of Vesta Custom Homes Website.
Are you interested in building or buying a home in one of these communities? Give us a call; we would be honored to help you!